Available to:
Workflow Managers and Administrators
The third party dashboard is a powerful, customizable way to view and manage your third parties and their statuses. The dashboard lets you review all of the active vendors in your organization, track which vendors have not been assessed yet, or investigate an incident based on any vendor attributes.
The dashboard is located in Workflows > Third Party Management.
Features
Columns in the dashboard are customizable, allowing you to adjust the order and visibility of the categories and attributes displayed on the dashboard.

The list of third parties can be sorted by any of the column names, with the exception of manually created attribute values.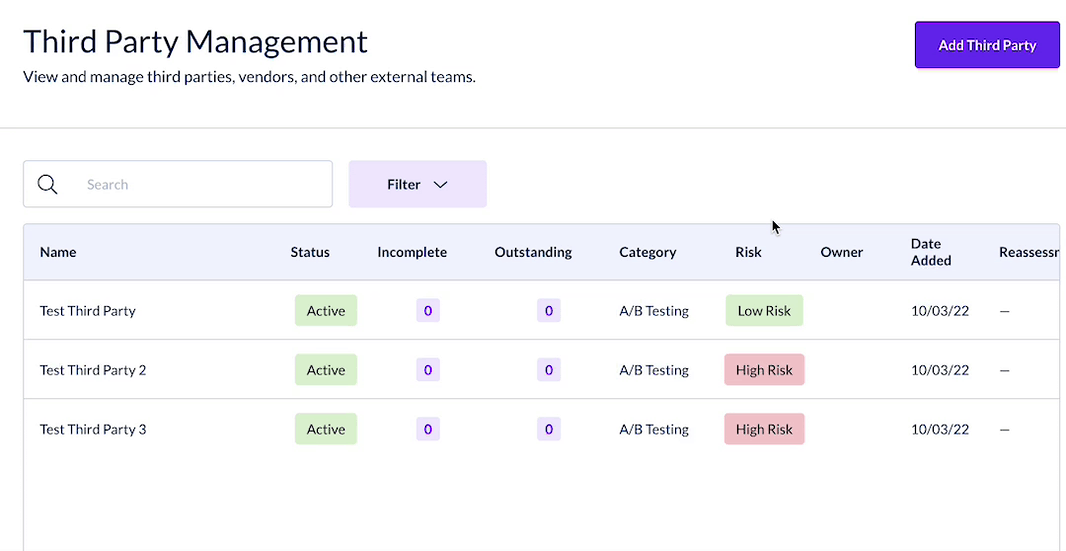 Using the search bar allows you to search by the title of the third party only.
Attribute values can be used to filter third parties that appear in the table by clicking the Filter button and selecting one or more attribute values to filter your results.
New to third party management? This video will show you how to invite a third party to complete an assessment, view and update third parties from the dashboard, and link a third party assessment to a launch.